There is no fashion staple quite like a blazer.
Originally exclusive to menswear, blazers can now be paired with a variety of looks, from basic office wear to a more elevated casual look. After all, a blazer can make even jeans and a t-shirt look chic.
This fall in particular, however, the staple piece is expected to experience a major comeback. The plaid blazer is just about everywhere at the moment. From Acne Studios to Tibi, every brand seems to be releasing its own take on the item. After all, the plaid blazer, with its ability to somehow look both academic and edgy, is rather irresistible.
Below are just some examples of the new must-have item:

(Image via Aritizia)
Wilfred Margaux Blazer (Priced at $228)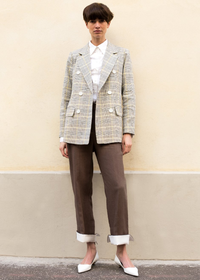 (Image via The Frankie Shop)
The Frankie Shop Yellow Plaid Linen Blazer (Priced at $245)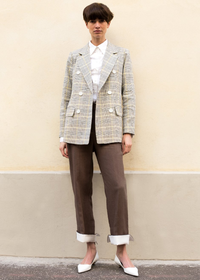 (Image via Zara)
Zara Check Balzer (Priced at $129)
(Image via H&M)
H&M Plus Pattern-Weave Jacket (Priced at $49. 99)
(Image via Topshop)
Topshop Check Mensy Blazer (Priced at $230)
Featured Image via Wikimedia Commons