Fashionista's and fashionmister's , for those of you who read the previous article on how to put together affordable looks, well now here is a full guide to some of the best vintage thrift shops N.Y.C has to offer.
1. Urban Jungle Vintage – thrift located at 118 Knickerbocker Ave. Brooklyn NY, 11237. Situated on Knickerbocker Ave. between Thames St. and Flushing Ave., this massive warehouse of wonders is packed with so many unique finds at super low prices! Prices range from $ 5 to $40. Check out the video below to get a sneak peak of what's inside.
2. Vice Versa Vintage – 71 White St. Brooklyn, NY situated on the corner of Mckibbin St. and White St. This vintage emporium is located in the same East Williamsburg neighborhood. This massive store has pizzazz and elegance! Unlike its grungy sister store Urban Jungle, Vice Versa resembles a higher end eclectic boutique. However, its prices are still just as low. Prices range from $5 high waist denim cut off shorts, $30-$40 leather Ed hardy jackets, $15-$30 cowboy boots, designer dresses for $10 or less, this place has it all!
3. The Mobile Vintage Shop – Located on the corner of Moore St. and Bogart St., this charming little shop with such a unique concept resides in the same neighborhood. Parked right outside of Roberta's Pizzeria is where you will find this gold mine. The shop is run by a genius innovative young women by the name of Tiffany Anne Nicole and her partner. Tiffany Anne's business is a mobile van renovated from the inside into a small boutique. She travels the US selecting quality vintage pieces and updates her merchandise frequently. The best part is that everything in store is $10 and under! Now that is a brilliant sales strategy! This little van of wonders is a must pit stop for every shopper! I have a feeling you won't leave empty handed or disappointed.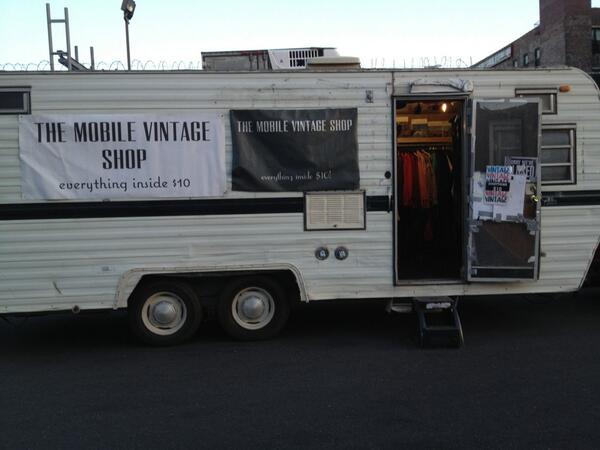 4. Shop the Ops – If you're looking to score some more contemporary second hand goods, check out this place. Located at 96 Knickerbocker Ave. Brooklyn, NY 11226 it is situated at the corner of Thames St. and Knickerbocker Ave. Here you will find names such as Aeropostal, Abercrombie & Fitch, Guess, DKNY and many more. Not to mention a massive shoe selection and prices as low has $3. Shops The Ops also features a super sale rack, for example everything with a white tag is buy one get one for $1 or it's $2-$4. Check them out.
5. No Relation Vintage – Located at 202 1st Ave. New York, NY. This store contains a massive selection of goods and you may very well come across an authentic Louis Vuitton bag for less than $100. This particular L train vintage chain store has two levels, the mega basement will take you on a journey like never before.
 There you have it, great affordable vintage gems in N.Y.C., now what are you waiting for? Get on that L train!